ENVIRONMENT! CHOICES!
by Barbara Bingham Deutscher, CPBC, CPBT
Harmony Animal Behavior
YES Behavior! Working WITH you and your animal
Creative ideas and training for real life
480-272-0533 Barb@HarmonyAnimalBehavior.com
An enriching environment and being encouraged to make one's own choices are a HUGE part of an animal's well-being and behavior. Meet Lilly as an example…
Love and good intentions are important but reality matters!
Every individual needs an environment where they feel safe and comfortable,
fresh clean water and a species-appropriate and nutritious diet,
PLUS Something To Do, space to stretch and exercise, social interaction,
regular opportunity for fresh air and sunshine (with protection),
AND…
EVERY INDIVIDUAL WANTS TO HAVE SOME EFFECT OVER THAT WHICH MATTERS TO THEM.
Choices allow animals to use their brain and their behavior as they would in nature.
CHOICES are natural and healthy for all animals!
Enrich the environment, include the animal within your daily life, and offer choices = Look what can happen!*
* Please note: First, always rule out any medical issues with a complete examination by a veterinarian that is qualified – preferably certified – in your animal's species.
Here is a page of Avian Veterinarians in AZ with links to the Association of Avian Veterinarians, American Board of Veterinary Practitioners, American Holistic Veterinary Medical Association.
Lilly, a 9-year old Goffin Cockatoo (unconfirmed gender), lived with a nice family since she was very young.
Lilly was adorable until she began screaming, then plucking, and at times self-mutilating.
Lilly's family loved her and came to me for help (well, they contacted me and I went to them)… however they did not follow through with training (teaching) Lilly and giving her the choices and environment that she needed. Little Lilly was ferociously (not a joke) chasing the family around the house, they asked me to take her for the weekend to give them a "breather"… and then, although they loved her, they didn't want her back.
Animals in our care – and particularly birds – require a huge commitment of time and effort. Lilly stayed with me until a wonderful permanent and knowledgeable home was found for her – this took two years to find an appropriate excellent home.
Thank you Todd and Alyssa! :) Follow Lilly on Facebook: The Lilly Fan Club
Here are some photos of Lilly's progress to offer hope and suggestions for those with birds expressing Feather Destructive Behavior.
Please contact me/Harmony Animal Behavior for individualized help.
Spending some time with my buddy Todd! – January 17, 2016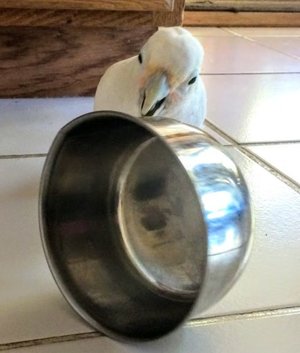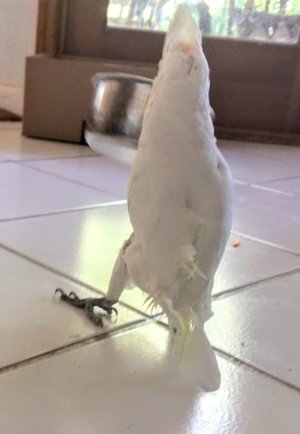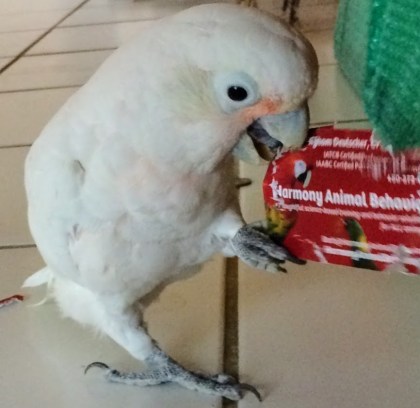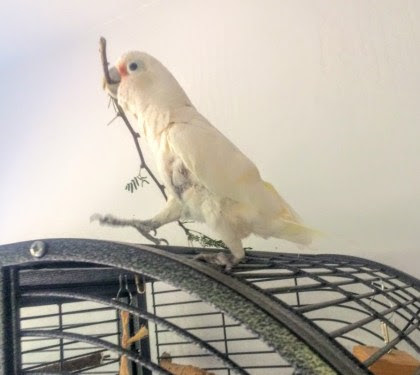 Lilly was adopted by Todd and Alyssa – March 2017!!! Follow her - oops: him - at The Lilly Fan Club. :D
Thank you Todd and Alyssa for giving Lilly the home of her dreams!!!
Anything in the environment can be enrichment... "beauty" is in the eye of the beholder!